Run Croatia has officially opened another chapter in its portfolio by certifying a Run-friendly Employer. The first such certification in Croatia and in the world has been awarded to Poslovna inteligencija!
Run Croatia is an international project primarily focused on the promotion of Croatian tourism in the world, as well as acting as an agent of sports and a healthy lifestyle. The project brings together health clinics, educational institutions, hotels, banks and from now on employers too. Sven Veronek, and successful brother and sister duo Berislav Sokač and Iva Hafner are people behind Run Croatia. In 2015 they translated their passion for promoting sport, healthy lifestyle and running culture into the Run Croatia brand.
As the first Run Friendly Employer in the World Poslovna inteligencija joined the selected group of running ambassadors, which shouldn't come as a surprise since they have proven to be a company that cultivates the culture of running and healthy lifestyle. Their team members successfully perform at B2B races, Ironman Triathlon, and at similar competitions. In addition, through their HR programs and policies, they actively promote the balance of private and business life of their employees, paying special attention to healthy food, sports activities and reducing stress at the workplace. Poslovna inteligencija also offers various benefits such as days off for the race, the possibility of preparing healthy meals at work and organized performances on racing competitions.
We congratulate Poslovna inteligencija on Run Friendly certificate, which emphasizes that their business strategy follows global trends. They have shown that they care about the health of their employees, encouraging them to practice active lifestyle, with an aspiration to attract new, young and active people who are ready to move their own limitations, but the limits of Poslovna inteligencija as well. BERISLAV SOKAČ, FOUNDER OF RUN CROATIA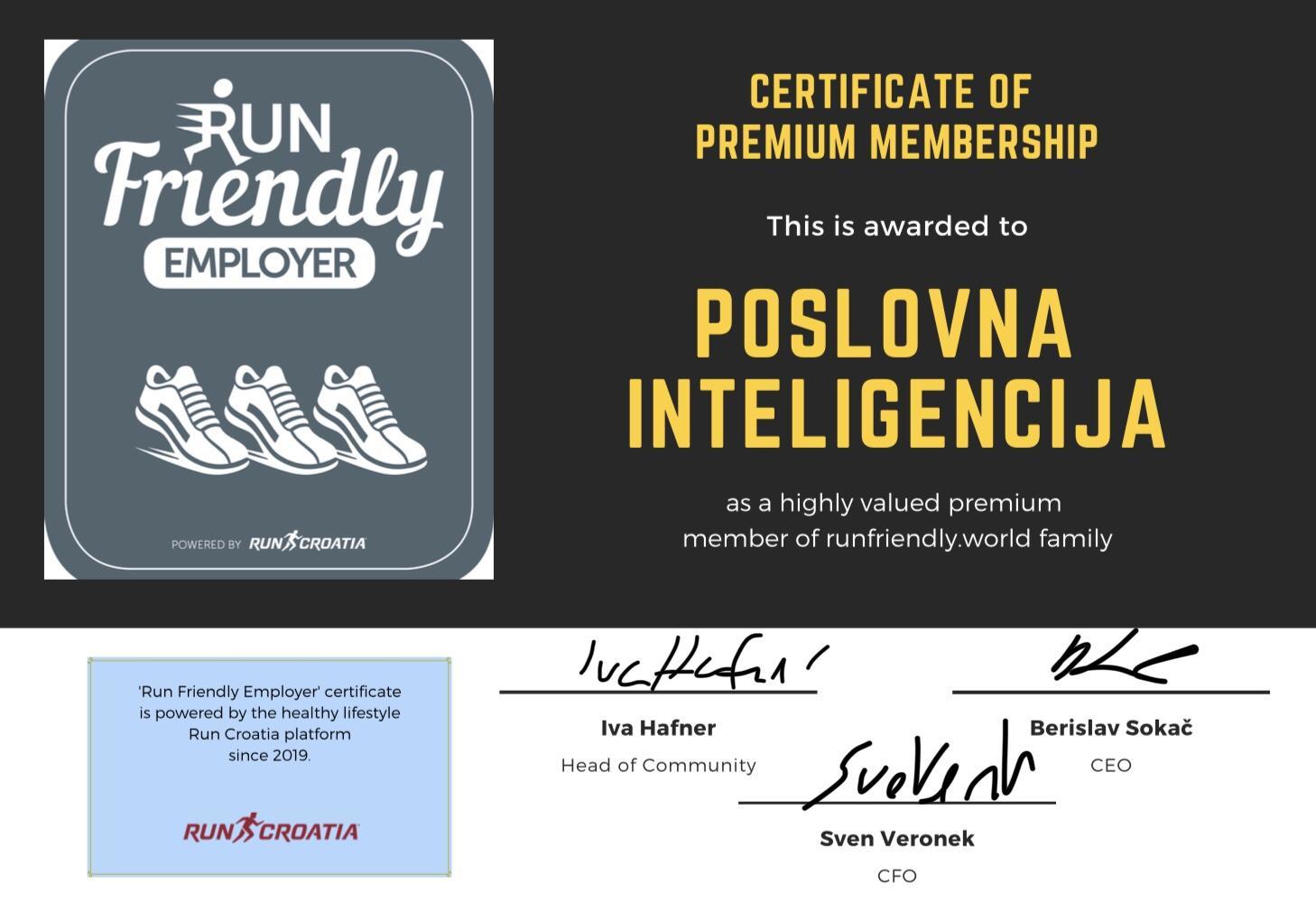 "Our company encourages employees in all fields as well as in their sports achievements, and the recognition coming with the Run-friendly certificate proves that employees have also recognized the benefits of participating in the sports activities that their company provides." Dražen Oreščanin, CEO of Business Intelligence, who is active in running, cycling and competing at duathlons.